The Luc Bélanger Distinction Scholarship, awarded annually as part of CRC's scholarship competition, aims to recognize student members' involvement and commitment to society, as well as their determination to pursue a career in graduate research. This prestigious recognition is a tribute to Dr. Luc Bélanger, a passionate researcher and builder committed to oncology research in Quebec City. 
Here is a portrait of one of the two recipients of the Luc Bélanger 2022 Distinction Scholarship, Nadine Morin, a doctoral student in cellular and molecular biology in Professor Marc-Étienne Huot's team. This bursary is made possible by the Fonds de cancérologie of the Fondation de l'Université Laval.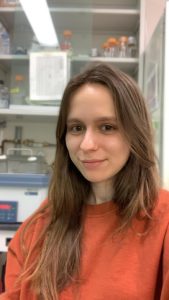 Involved in more than 20 associations throughout her academic career, Nadine Morin has demonstrated her social commitment and willingness to go the extra mile right from the start of her master's degree at CRC. The position of representative of the Comité étudiant regroupement cancer (CERC) enabled her to stand out thanks to her ability to adapt, particularly when the COVID-19 pandemic threatened CRC's annual events, such as the Journée scientifique des étudiants and the "Zoom sur la recherche contre le cancer" science popularization activity. The reorganization of these activities in virtual mode helped maintain a certain stability among student members during this period of uncertainty.  
Her leadership was also evident in this position, which she held for two consecutive terms. In this sense, she brilliantly guided the various committee members in their tasks and encouraged everyone to take initiative and responsibility. To help improve communication and cohesion between the various research teams, she introduced the position of site manager, which quickly proved beneficial to the committee as a whole. 
Among the associations she has been involved with is the Réseau d'aide des étudiant.e.s gradué.e.s inscrit.e.s en recherche de la Faculté de médecine de l'Université Laval (RÉAGIR), for which she acted as a speaker for the Hôtel-Dieu de Québec site, as well as a member of the committee that initiated conferences on well-being, covering topics such as diet, stress, financial management and more. She has also been involved in promoting science to the general public through various outreach activities organized by the Centre de recherche du CHU de Québec-Université Laval. 
She has already received several awards, including a scholarship of excellence and two honorary distinctions from the Faculty of Science and Engineering, the Prix personnalité des associations de premier cycle de l'Université Laval in 2019, and the prize awarded by the FPPU and the SPPROC at the Journées de la recherche 2022. She also helped set up the VaccinTrackerQc student initiative, a daily-updated platform for tracking COVID-19 vaccination in Quebec. This initiative has reached over 25,000 people per week in the peak vaccination season. Finally, in addition to science, our Luc Bélanger 2022 bursary recipient is an avid outdoorswoman. At the age of 16, she hiked the Appalachian Trail in Maine (>450 km) and was a Scout leader for five years, where she developed her independence.  
Well done Nadine!