Here's a profile of one of the recipients of a CRC 2022 Excellence Scholarship, Nataly Espinoza, a doctoral student in community health in Professor Lynn Gauthier's team. This bursary is made possible by the Fonds de cancérologie of the Fondation de l'Université Laval.  
Nataly Espinoza is a Peruvian-born family and community physician. From an early age, she has been involved in various community and volunteer activities. Nataly's exceptional leadership skills, fuelled by her life experience and intrinsic values, are evident in many ways. The combination of her volunteer activities, her skills, her motivation and her strong conviction become the driving force behind initiatives for her peers and communities.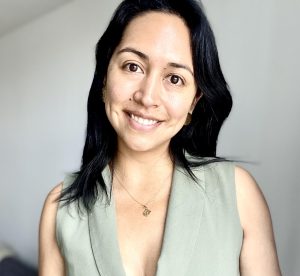 While living in Peru, Nataly was a member of the Peruvian volunteer fire department, more specifically of the 96th fire station in Lima. During her last two years of service, Nataly was head of the health unit and responsible fortraining the fire company's new generation of first-aiders. In addition, as a doctor, her sustained actions in promoting the principles of front-line palliative care in Peru led to the creation of the first Peruvian palliative care association.   
Now in Canada, Nataly is a doctoral student in community health at Université Laval's Faculty of Nursing. As a means of integrating into Quebec society, Nataly volunteered at the "Maison de soins palliatifs du Littoral" clinic. She began working there in October 2021. There, she had the opportunity to take care of patients' basic needs during end-of-life care. She was also able to support families through bereavement and grief. 
Since fall 2022, Nataly has been a member of the RQSPAL student committee. In this committee, she is responsible for organizing integration activities and activities to share the scientific development of student members. Another of Nataly's major interests is to be actively involved in scientific creation and publication. To date, Nataly has published over 20 scientific papers with various research groups. These achievements, made in collaboration with groups in Peru, the United States and Canada, testify to her ability to collaborate, her humility, her team spirit and her respect for work.  
Furthermore, she is constantly working to contribute to the mobilization and dissemination of knowledge in palliative care. Since fall 2022, Nataly has been a member of the Cahiers francophones de soins palliatifs digital transition and open access committee. The journal presented on the Érudit platform is managed by the Institut de soins palliatifs et de fin de vie Michel-Sarrazin – Université Laval through its editorial committee. Its participation as a student member enables the inclusion of training and academic perspectives for the journal. Taking into account aspects that encourage student participation will increase scientific production in the field of palliative and end-of-life care. 
In addition, equity, diversity and inclusion are pillars of Nataly's daily work and studies. Currently, she is a member of the CPN-KMIS Equity, Diversity and Inclusion (EDI) Committee of the Chronic Pain Network – Strategy for Patient-Oriented research. As part of this committee, she is part of a group of professionals responsible for overseeing the implementation of EDI in the chronic pain network, and more specifically for knowledge mobilization and planning, as well as the execution of scientific activities, training and capacity building.  
Finally, Nataly is a true role model; her medical knowledge combined with her passion for teaching crystallizes in rural community settings through the development of integrative activities mobilized by these communities. Ultimately, her peers unanimously praise her natural leadership, which is exercised with humility, empathy and integrity.