Here's a portrait of one of the recipients of a CRC 2022 Excellence Scholarship, Aurélie Fuentes-Rodriguez, a doctoral student in cellular and molecular biology in Professor Solange Landreville's team. This scholarship is made possible by the Centre de recherche sur le cancer de l'Université Laval and the Fonds de cancérologie de la Fondation de l'Université Laval. 
Passionate about biology since childhood, Aurélie Fuentes-Rodriguez has acquired solid expertise and in-depth knowledge in the fields of general biology, cancer, stem cells and cell/molecular biology thanks to her remarkable academic and professional career. She obtained a bachelor's degree in biology from the University of Montpellier (France), during which she carried out a research internship on the detection of circulating metastatic cells in the blood of breast cancer patients. In addition to becoming a mother, she continued her studies and improved her command of English in San Francisco (California), where she completed intensive courses before being selected for a two-year stem cell program offered by the prestigious California Institute for Regenerative Medicine. She joined Prof. Bruce Conklin's laboratory at the J. David Gladstone Institutes in San Francisco, where her research project focused on the generation of isogenic cell lines from patients with a rare macular dystrophy called Best's disease, using CRISPR/Cas9 technology on induced pluripotent stem cells (iPSCs).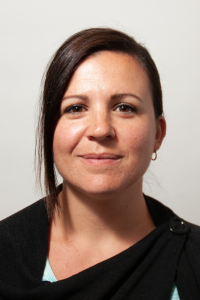 She then began a Master's degree in cellular and molecular biology, joining the laboratory of Pre Solange Landreville at Université Laval, before accelerating to the doctoral level. During her master's and doctoral studies, she presented her research work at numerous provincial, national and international conferences, and received several presentation awards and scholarships for academic excellence, including CRC scholarships at the master's and doctoral levels. This has enabled her to pursue her career in basic research, acquiring solid expertise and in-depth knowledge in cancer research, gene editing and cell/molecular biology. She is passionate about scientific research and able to work in collaboration with other researchers to bring ambitious projects to fruition. Finally, she is also involved in student associations and participates in the organization of activities for the general public, demonstrating her commitment to her research environment.