Here's a portrait of one of the recipients of a CRC 2022 Excellence Scholarship, Lucas Germain, a doctoral student in molecular medicine in Professor Étienne Audet-Walsh's team. This scholarship is made possible by the Centre de recherche sur le cancer de l'Université Laval and the Fonds de cancérologie de la Fondation de l'Université Laval. 
From an early age, Lucas Germain developed a curiosity for many subjects, and his academic interests wavered from history to computer science, philosophy and engineering. In France, he obtained his baccalauréat (equivalent to a DEC) in engineering sciences. In a desire to get closer to nature and the living world, he decided to leave his homeland for the adventure of a lifetime to attend Cégep de Baie-Comeau, where he studied wildlife management. It was during this year that he discovered and appreciated the life sciences. In particular, he developed a deep interest in human biology and health, which prompted him to leave the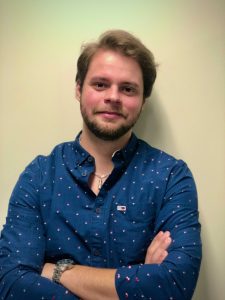 program to combine his skills and passion for computer science with biology. 
During his undergraduate studies in bioinformatics at Université Laval, he developed a taste for the study of human genomics and its impact on health. This naturally led him to cancer research, where his skills as a bioinformatician were in demand. It was at this point that he joined Professor Audet-Walsh's team for two internships, and then remained in this environment to pursue his graduate studies. Thus, since 2019, he has been working on prostate cancer, in particular the role of hormone receptors in regulating tumor metabolism. 
Beyond his research project, he is involved in numerous collaborations, offering his programming skills to other research teams for their RNA sequencing or chromatin immunoprecipitation analyses (RNA-Seq and ChIP-Seq). It's through all this involvement that he's carrying out his PhD, which he hopes will help advance knowledge in cancer research, particularly prostate cancer, which remains a major public health issue.